Every year Bowling Vision sponsor UK based bowlers to support them as they compete in local, national and international competitions.
All our staff players are linked with a UK based pro-shop and are active promoters of the sport of bowling. Passionate about playing, teaching others, raising up the next generation and supporting local leagues.
We are proud to announce that #TeamBV for 2023 are …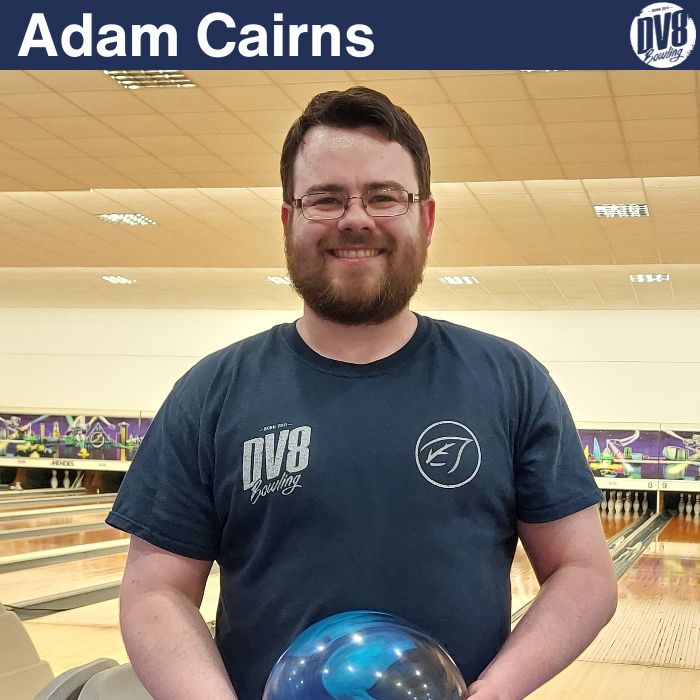 Staff player since 2016
DV8 Bowling
Series high 820
19 x 300 games
Associated with Strikeline Pro Shop
Favourite ball of all time: Brunswick Smokin Inferno
Adam is a highly successful, top flight bowler. Adam has been selected for the Team England squad since 2015. In 2010 Adam became the World Youth Singles Champion and BTBA Bowler of the Year. Now, as well as competing he spends time passing on his passion and experience to young bowlers at his local YBC. Other competition wins include:
2023 ESBT Shipley stop 2
2022 Triple Crown, all events
2021 BTBA Shipley doubles
2020 Team England trials & ESBT Shipley stop 2
2019 European Champions Cup singles silver
2015 BTBA team of the year & BTBA bowler of the year nominee
2014 Newcastle singles
2013 Washington singles, BTBA nationals events and doubles, YAC Nationals
2012 Heather Baker Memorial singles
Staff player since 2018
Radical Bowling
Series high 837
24 x 300 games
Associated with Porky's Pro Shop (owner)
Favourite ball of all time: Brunswick Fanatic
Craig is a man with bowling in his blood. He grew up bowling with the Juniors in the YBC in Mansfield. He won bronze as part of Junior Team England at a team event in Israel. More recently, he won singles and doubles events in the BTBA Tour 2021.
Craig is a wonderful advocate for the sport of bowling and is keen to nurture young talent. He is a Youth Bowling coach, the Secretary for the Northants County Bowling Association and the Secretary for the Midland Scratch League.
Craig is the owner and operator of the very busy Porky's Pro Shop in Kettering. Being local to the Bowling Vision head offices Craig is a frequent visitor and even comes along to help us with stock take.
His current ball recommendation would be the Radical Innovator Solid – solid top end, clean through the heads, super strong back end and hugely continuous.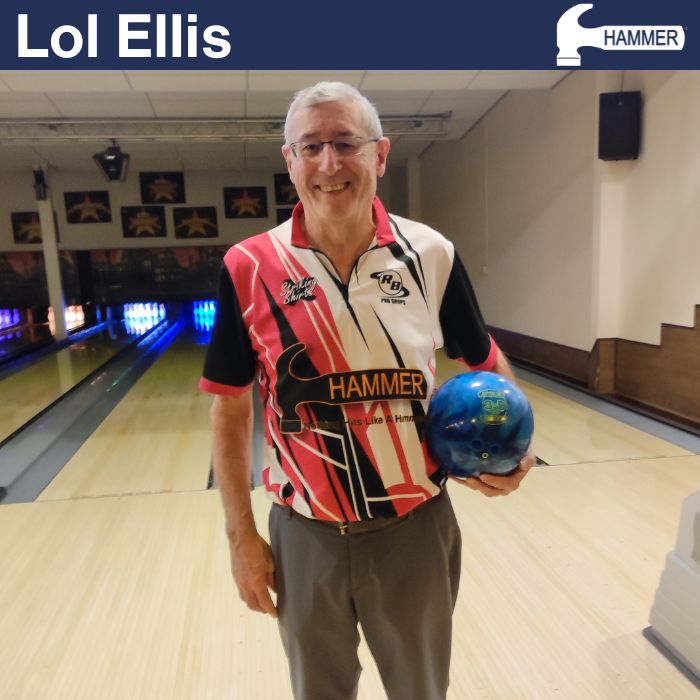 Staff player since 2022
Hammer Bowling
Series high 847
20 x 300 games
Associated with RBS Pro Shop
Favourite balls of all time: Envy Tour & Black Widow 2.0 Hybrid
Lol is the elder statesman of the Brunswick UK staff players and has been a successful bowler since the 1970's. Having been bowling since he was 10 years old, Lol has played in tournaments across a broad spectrum of categories. Lol has been ranked in the England top 10 for 12 years, has represented Team England at Adult and Senior level and bowls on the European and US tournament circuits. For a time Lol ran a pro shop in Wolverhampton. His other achievements include:
2023 second place at French Open Villeneuve
2022 ISBT singles winner at Wittelsheim
20 senior wins
20+ English tournament wins
2 World Team cups
2 European Championship wins
2 World Championship wins (Singapore & Abu Dhabi)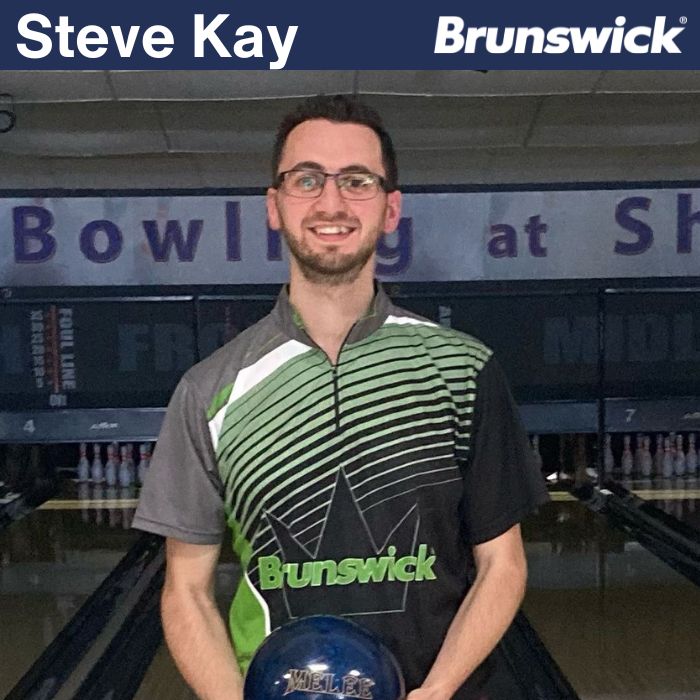 Staff player since 2021
Brunswick Bowling
Series high 837
18 x 300 games
Associated with Power Play Pro Shop Shipley (owner)
Favourite balls of all time: Brunswick Black & Blue Knock-Out
Steve is a popular character on the competitive bowling scene, having played in the junior, youth and men's tournaments. By 2008 he had won the NAYBC UK Championships Masters event before going on to become a top adult bowler, playing internationally. Steve plays regularly at Go Bowling in Shipley, is an active member of their league and owns the Power Play Pro Shop. Steve's podium positions include:
2022 Men's ICC winners
2022 Gibraltar Open Singles winner
2022 Gibraltar Open Doubles runner up
2021 BTBA tour adult doubles
2019 BTBA tour adult singles
2015 Storm International Team Event, 2nd place
2012 Irish International Open, 2nd place
Staff player since 2021
Hammer Bowling
Series high 857
30+ x 300 games
Associated with Power Play Pro Shop Nuneaton
Favourite balls of all time: Ultimate Inferno
Paul has been named English Bowler of the Year, six times and through his 25 years of bowling has won over 30 national titles. In 2015 Paul was inducted into the UK Tenpin Hall of Fame. He's a bowling legend. As well as competing on the European circuit Paul is one of a select few UK bowlers to compete in the USA as part of the PBA. During his career Paul has achieved:
2022 ESBT Masters champion
Three time EBT ranking champion
Three time EBT Masters champion
17 EBT titles
PBA title (Ballmaster Open, Finland)
Three time Weber Cup winner (Team Europe) Including scoring the events first ever 300.
Runner up at the televised World Tenpin Masters event in 2007.
Staff player since 2023
Hammer Bowling
Series high 801
3 x 300 games
Associated with Ballmaster Pro Shop
Favourite ball of all time: Purple Hammer
New to #TeamBV we are delighted to welcome Kallum Peach. Kallum has been bowling for 10 years and enjoyed success in the Junior, Youth and Men's game. Coached by the fantastic Andy Penny. Kallum is part of the current Team England squad. In recent years Kallum has achieved:
Norfolk County U15 champion in 2018 (when only 11)
BTBA National U11 tour winner in 2016
3rd European Youth Championships 2023
4th Adult National Singles Event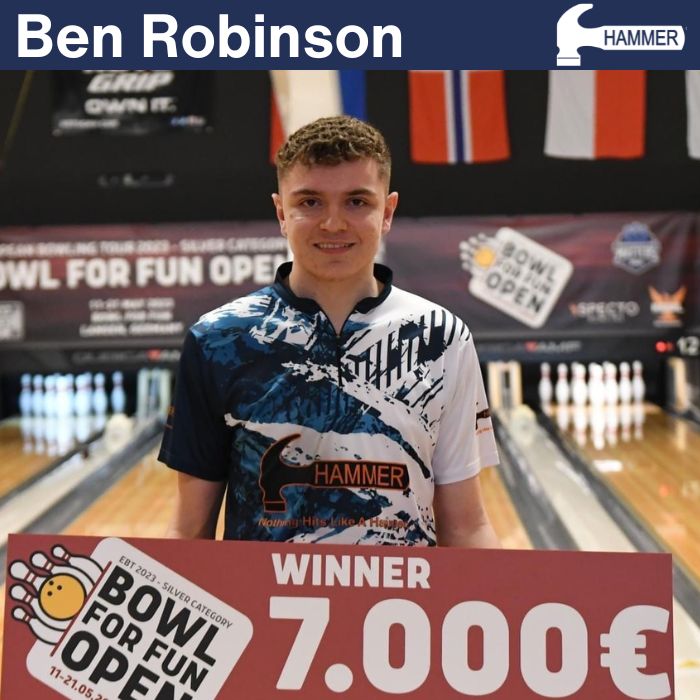 Staff player since 2022
Hammer Bowling
Series high 826
4 x 300 games
Associated with Stringing Strikes Services
Favourite balls of all time: Purple Hammer and Hammer Envy
Ben is a rising star on the bowling scene and we're very excited to have him in #TeamBV. Ben started bowling when he was five and at the age of 15 switched to playing two-handed. A member of the Team England squad. Ben showcases his bowling adventures and Hammer balls on his YouTube channel.
2023 Brunswick Madrid Challenge winner
2023 Bowl for Fun EBT winner
2023 EBT European Tour Frankfurt, Male singles winner
2023 Dunstable King of the Hill Landmark Series winner
2022 BTBA Nationals all events winner & four man team winner
2022 BTBA Junior National Champion, graduate division
2022 English Open (Big Bear Bolts)
2022 Tenpin Cam Open winner
2022 Airport Summer Doubles winner
Staff player since 2018
Track Bowling
Series high 823
15 x 300 games
Associated with Robbo's Pro Shop (owner)
Current favourite balls: Stealth And Stealth Pearl 
Glenn is a super bowler and a passionate Welsh dragon. Currently ranked #2 in Wales Glenn has represented his country at 10 tournaments, since joining Team Wales in 2019. He's been Welsh National Champion four times since 2017. His successes include:
2023 Welsh National Champions All Events
2023 Welsh ranking / trials Men's Singles at Milford Haven & Bromborough
2022 Welsh ranking / trials Men's Singles at Stroud
2021 BTBA Tour doubles winner
2020 Welsh National Championships All Events
2019 Welsh National Championships All Events
2019 Welsh ranking / trials Men's Singles at Stroud
2018 Lincolnshire Country Champion
2017 European Championship of Champions 16th
Staff player since 2019
Brunswick Bowling
Series high 843
54 x 300 games
Associated with Power Play Pro Shop Shipley
Favourite balls of all time: Knock Out Black Blue
Rob has competed in 14 different countries, bowled in two televised finals and holds multiple British titles. Coming from a bowling family with a Father who was Regional Tech and having worked at Nottingham Bowl as a teenager, bowling has been at the heart of Rob's life since childhood. A four time member of Team England, his bowling achievements include:
2021 Gibraltar Open doubles winner
2020 BTBA Tour singles winner
2019 BTBA Tour triples winner, singles winner
2019 Gibraltar Open, singles winner
2018 BTBA Tour, OOM winner
2018 BTBA Tour, Scratch singles winner
2018 Scottish Open singles winner
Podium finishes at multiple European singles and team events