Allstars Sports Bowl in Bridgwater is an incredible multi-activity venue.  Fully embracing competitive socialising Allstars Sports offers guest bowling, AR darts, shuffleboard, pool, karaoke and arcade games. Guests enjoy access to a fully licensed bar and quality American diner style food. A fabulous place for families during the day and by night, Allstars has a fun, party vibe.
We thoroughly enjoyed working alongside the Allstars team to deliver this project. Having already worked with the owner, Pete Wallington, on his Weston-super-Mare venue it was a pleasure to be part of the Allstars expansion. The Allstars brand is a fresh take on a traditional sports bar. You'll still see enormous screens showcasing the latest live sport, hearty and tasty food and a full bar, but at Allstars you get to enjoy a whole host of activities too.
We asked Operations Manager, Rich Heal about his experience of working with Bowling Vision. This is what he said:
The primary activity on offer is tenpin bowling. We installed eight gorgeous Colorfull Gunstock Savoy walnut lanes with UV coating, giving the lanes an atmospheric blue hue when placed under UV light. The venue opted for a white masking wall onto which they project more sporting action – a truly big screen action experience.  The scoring is powered by Sync, creating a modern user experience and additional gaming features.
Throughout the venue guests are treated to a wide range of gaming and social activities. AR darts provide a new, cutting edge, tech-led experience. One of our most popular competitive socialising products, AR darts transforms the traditional game of darts into a multi-player, fast-paced immersive battle. The dart board sits within a screen allowing vibrant graphics to be projected onto the surface. There is a suite of games to play, with the screen guiding guests through the game play, highlights the target segments and tracks the scoring. An excellent game for all, regardless of their darting prowess.
In addition, the venue offers shuffleboard, a generous sized karaoke room, pool tables and a good offering of arcade games.
Despite the large number of games available at Allstars in Bridgwater, they have managed to retain space for a large eating area and an outside terrace, with terrific views of Bridgwater.  The menu is bursting with American diner classics; burgers, pizza, hot dogs, ribs, wings, nachos and a tempting selection of light bites.
Keeping ahead of the curve the drinks menu offers a broad selection of no/low options including mocktails.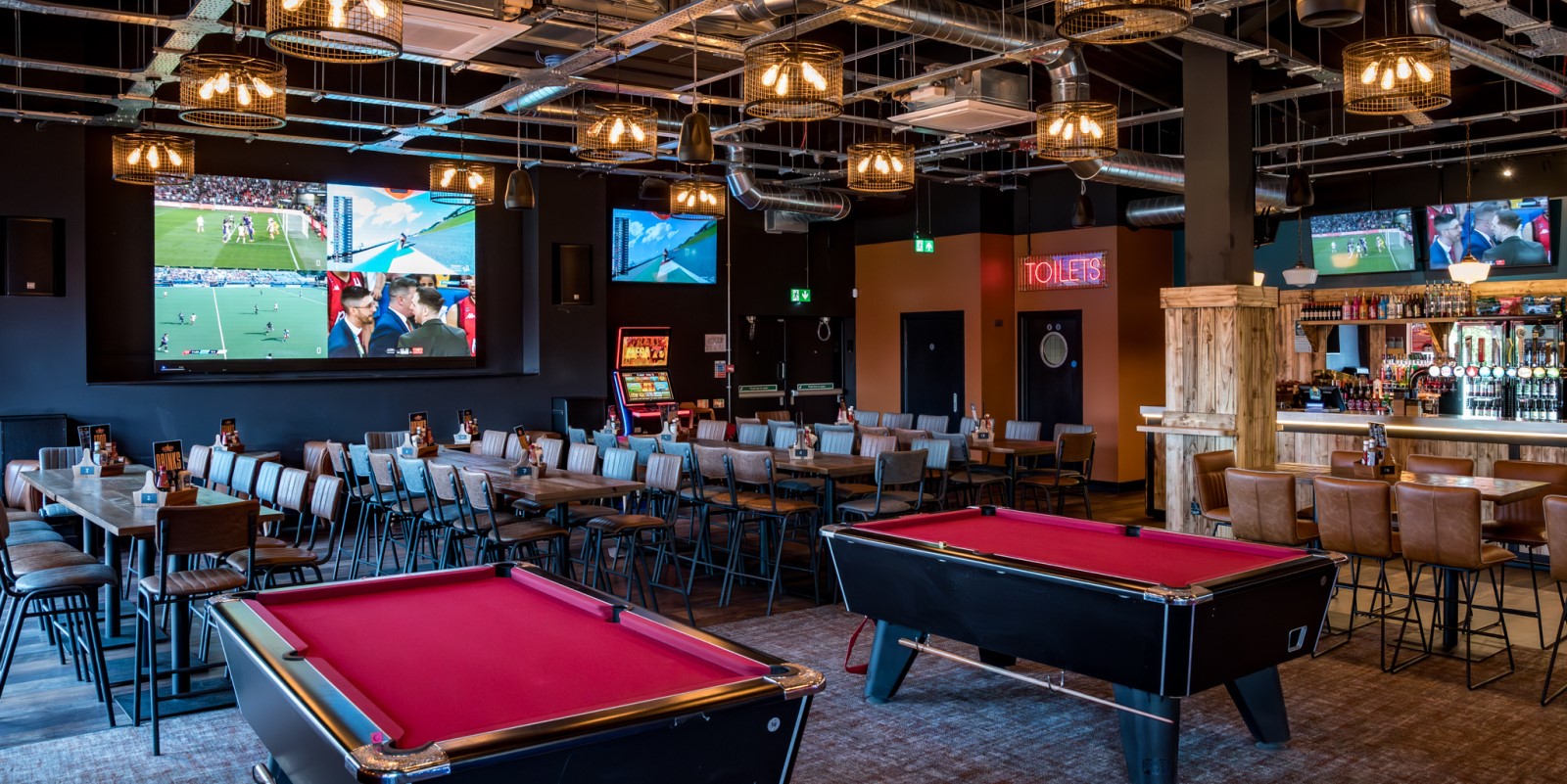 The venue has been carefully designed to maintain a strong sports bar identity whilst elevating the gaming and food offering, making this an attractive proposition to a broad spectrum of customers. There's plenty to keep the family busy, big screen sports for the fans, activities to break the ice on dates, everything you could want for a night out with friends plus an ideal location for parties and events.
Allstar Sports Bowl in Bridgwater is undoubtedly a brilliant entertainment destination, offering a variety of thrilling activities, delectable food and drinks, and a welcoming ambiance for everyone.
Build your own successful leisure entertainment venue
Get in touch to discuss your inspiring bowling alley vision with us. We can help you on the journey from concept to successful operational venue.