We spotted some pictures on Facebook recently that made our jaws drop! Marv Illis has built a shrine to the classic Brunswick era, preserving some incredible bowling history in his home. We caught up with him to find out more.
Your Brunswick collection is incredible! Did this all start from visits to your local bowling alley as a child?
Thank you! I did bowl a lot as a kid, even at home with plastic balls and pins. When my local lanes were remodeling many years ago they offered me two sets of their old bucket seats. I was still in school and living with my parents at the time, but always hoped to one day buy a house and build a basement bar and incorporate them somehow. Despite not being part of the Gold Crown era, I still think they fit in!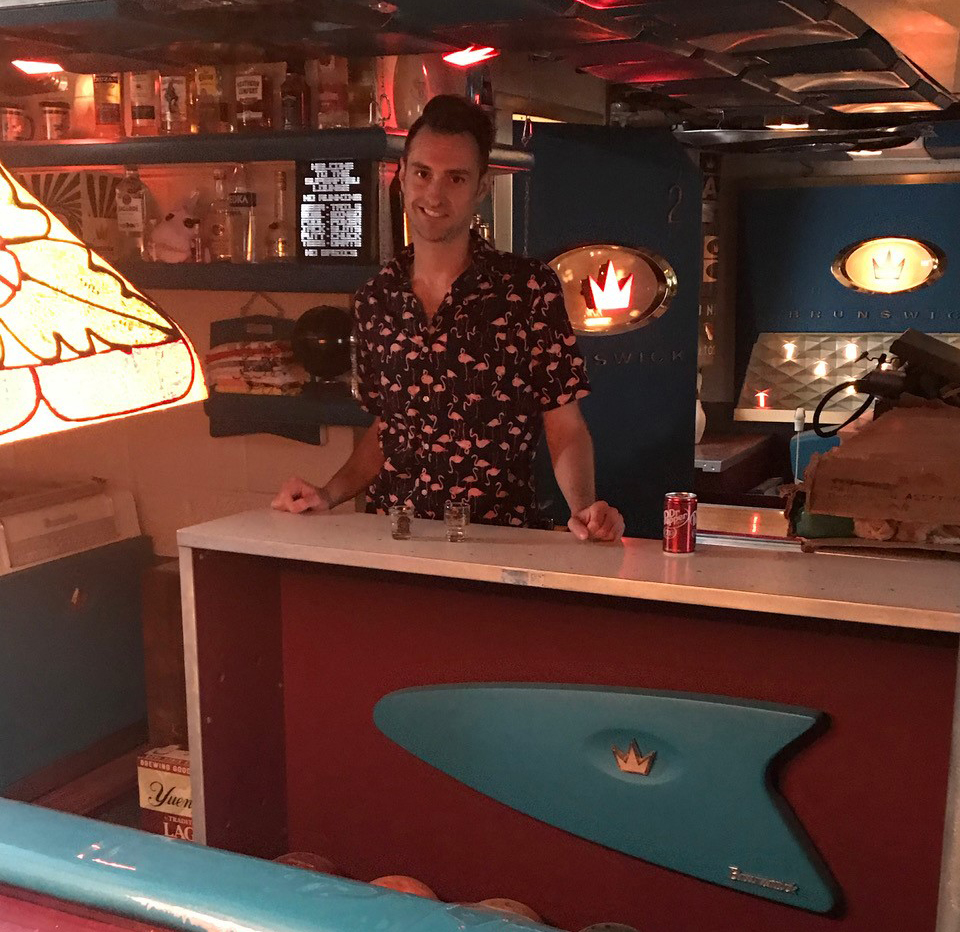 Does your games room have a name? What do you do when you're not in there?
I call my basement the SuperFabuLounge! (say it like the word "superfabulous!")
Besides bowling throughout the midwest in college, I travelled across the country refereeing and participating at the highest level of flat-track roller derby, where I was known as Marv Illis! for almost a decade. I'd be introduced "He's Super! He's Fabulous! He's Marv Illis!" (Say it like the word "marvelous!") After hanging up my skates I went to school to be a professional wrestler. So like every superhero has their secret base, I built myself a superfabulous lounge. The best thing about it is I have everything in it I like to do outside of home, so it was the perfect place to quarantine! I pay my bills by dealing poker professionally. I've also dealt blackjack, I love playing bingo, darts, billiards, and of course go bowling. In my Marv Illis! Pro Shop I do graphic design and screenprint t-shirts. I am about to attempt a YouTube show, and love playing poker on the internet.
The iconic crown is instantly recognisable from movies, what does Brunswick mean to you?
I still have my first Mudball from childhood, my Inferno series, and I have at least 100 balls of every line and color from their midcentury product catalogs to fill my racks. I think Brunswick will always be the king of bowling because their equipment has always been well-versed, thought out, and dependable, on and off the lanes. There's been plenty of bowling alleys closing and brands of parts to choose from if you want some bowling decor, but it's no mystery why movies purposely seek out the same handful of vintage centers to film modern scenes. The Brunswick imagery is iconic and a fun reminder of when bowling was more popular than some other major sports in the United States.
Do you come from a bowling family and do you still bowl? Do you use a vintage ball today?
I bowled league with my older sister when really young before we tried different things. I picked it back up and took it more seriously in high school while unsuccessfully trying to start a school team. I helped actually start a team and bowled in college for the University of Michigan – Dearborn. I've since mostly bowled the Peterson Classic in Chicago for the last dozen years. I specifically drilled a 12 pound vintage Black Diamond to throw there and liked it so much I still use it as my spare ball today. I'd love to bowl more legitimate leagues and sport tournaments but it's difficult due to work at the moment.
How did you get started & how long have you been collecting for?
It all kind of started by accident five years ago. My extra job was at a DIY maker space where we taught people to "Build your dreams here!" I had also just started working night shift at my main gig when summer came around. I decided to start looking for bowling alley wood to start my dream bar top/workbench project and to maximize my summer sun. I drove cross state to meet a guy named Brandon who had removed not only the lanes, but a bunch of the functional decor pieces from a few alleys in the midwest. I had some basic experience working at an auto body shop and thought it'd be fun to restore and use some of these items in my bar too. When I finished everything I had collected by that point I was excited, but the junk scattered everywhere else really overpowered this one little slice of my vision. Even after a rigorous cleaning I decided I couldn't have company over with such an otherwise basic basement, and set forth trying to find one of everything and create an all-encompassing experience.
Is there anything that your collection is missing? Will your collection ever be complete?
I know from the service parts catalog that I'm missing an aluminum pedestal concourse ashtray, the shoe sanitizer, and a bank of the lockers with four units instead of ten. I've tried collecting whatever small branded awards and trinkets I've seen come to market. I know there's pieces out there being held by other avid collectors, so maybe one day they'll pop up again. I figure there's some things I might not even know about that have been totally trashed years ago, unfortunately. If I were to start a new segment of my collection I think vintage matchbooks are really neat.
Which is the biggest and which is the smallest item? Do you have a favorite?
The biggest and smallest thing are actually kind of the same! Ironically when I first started I didn't think I'd have room for a single lane masking unit on my walls, but have now restored one completely and repurposed parts of many others. A few years later I was able to find a double unit and decided to build a wall around my laundry room with it. One of my favorite small pieces is a proprietor's money clip in the shape of the alternate Pindicator version, and on the back it's engraved "There's money for you in Gold Crown Equipment." My favorite big thing has to be my life-size Billy(?) Brunswick, which came out of Hillcrest Lanes down in Ohio.
Which was the hardest to get hold of? How far have you travelled to get an item?
There's been a few people who refuse to ship just a bowling ball I needed to fill a gap in my collection, but for the most part people have been very enthusiastic about my project and will try to find a way to ship or hold things. My longest one day trip was a 1400 mile loop to Iowa, up through Chicago, and finally back cross state again before coming home. Another enthusiast in Iowa with the same space problem took the time to build a 2/3 scale version of my double masking unit for his basement but was ready to trash it. It's now acting as part of my drop ceiling effects.
Any advice to anyone thinking about starting their own collection?
Timing is everything. I laugh because my basement came together like magic sometimes. I'd look at a blank space for a few days wondering how to fill it, and in my daily scouring of ebay/craigslist/letgo/etc. something would magically pop up just as I needed. Whether that was good fortune or persistence I'll never know, but if you're collecting something that's meant to be collected, realize you better be diligent with your time and money and be first in line. I may have missed out on a lot of normally fun times with friends because I'd have rather completed projects, but I really believe in opportunity cost and exposure bucks. If people are calling you crazy for following your dreams, you're probably doing something right. Don't be discouraged, instead I like to say and encourage you to tell them "Don't be basic, be Marv Illis!"
To see more pictures of this incredible room, head over to our Instagram page…