This is George. She is a part of the Bowling Vision Support Team. As well as helping operators when they have issues with their equipment the Support Team also provide training for bowling centre teams.
Last week George spent time with the staff at East Street Lanes in Leicester, installing new features from the Brunswick, Crown Advantage Platinum package. 
This is what George had to say about her time at East Street Lanes …
A great part of my job is getting to meet the people we support every day. Recently I visited East Street Lanes in Leicester to showcase the new products from Brunswick's Crown Advantage Platinum package.
Upon arriving at site, I was welcomed by a team of smiling faces, ready to learn about Brunswick's exciting developments.
We began our session by going through what benefits their business would see from Crown Advantage Platinum. I highlighted the many ways the products could be used and how they would appeal to their customers
We discussed how the OpenLane app is incredibly intuitive and appeals to a younger / student market, the possibilities of booking via the OpenLane app and creating the habit of doing so. We also looked at the marketing possibilities within the specials section of the app and how that would be beneficial, with numerous campaigns working together. We went through the loyalty system built into OpenLane and explored how to maximise the benefits of this for East Street Lanes.
Next up on the agenda was the install of the new OrderNow product within Crown Advantage. OrderNow enables the customer to order from a select menu directly from the tablet. Again, we discussed how this benefits East Street Lanes and decided to encourage drink sales alone to begin with, with the possibility to add snacks, small plates and sharers in the future.
Following discussions with the Management team we identified which products from the drinks menu were to be included and how to utilise the layout options to best present the options to the customer. I then trained them on how to manage this going forward.
We also chatted about how many of us had enjoyed using table ordering during the restrictions and the benefit to the customer. However, we noted that for some people these benefits could now be outweighed by the enjoyment of interacting with team members at the bar. Online ordering is a fantastic service that can now be delivered with the Crown Advantage package, but we felt for East Street Lanes it wasn't essential, but may offered at a later date.
I was introduced to the weird and wonderful world, that is Caddyshackers Adventure Golf and proposed that this be available to be booked as a package, with bowling, as this would be a really brilliant USP in their location. We are going to move this forward with our online booking team.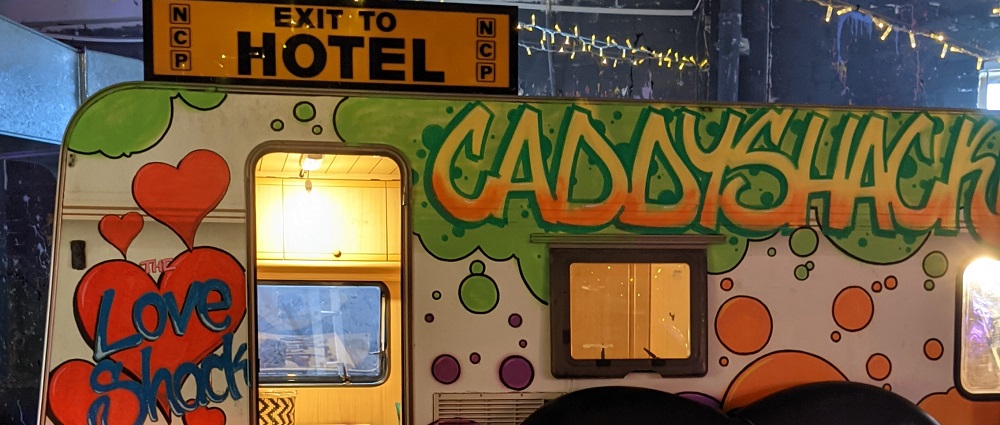 It was interesting to hear the team speaking about the products and how they felt they would work for their customer base; I know as an operator I would have been incredibly excited about having these products in my centre and delivering a new, tech-driven experience to my customer. 
After a jam-packed day of coffee and chatting I left the centre feeling thrilled to have been able to make such a positive difference to the team and excited about how our system is going to be of significant value to their business. 
I have been in contact with the team at East Street Lanes, since my visit, ensuring they have all the tools they need to deliver the new products. After leaving, I also created the floor plan within Sync with table resources, which they now plan to book online. 
All in all, it was a great day and a wonderful team to work with, lots of new ideas and further learning for all. 
Crown Advantage
Crown Advantage is available to operators with Sync scoring.
Crown Advantage is a single, easy-to-manage, center operations subscription that conveniently bundles software updates, support, marketing, and mobile applications.
This comprehensive subscription plan simplifies operations with easy software updates and frequent enhancements, ensures access to our proven revenue-driving business solutions, and avoids unexpected expenses for software and support.
Crown Advantage comes in Gold and Platinum packages.
Some of the features exclusive to the Platinum package include:
 OrderNow Self-Service
POS FloorPlan
POS Enhanced Game Card Interface
Loyalty
Open Lane mobile app
Open Lane waitlist texting