Kingpins in Southend launched in May 2022 before opening their stunning second floor in March 2023. Kingpins really does have it all with Spark bowling, AR darts, karaoke, shuffleboard, pool, air hockey, a large range of arcade games, a great bar, a restaurant serving tasty food and an incredible view of the sea from their terrace. Located just behind Marine Parade this is the perfect venue for a family day out or night out with friends.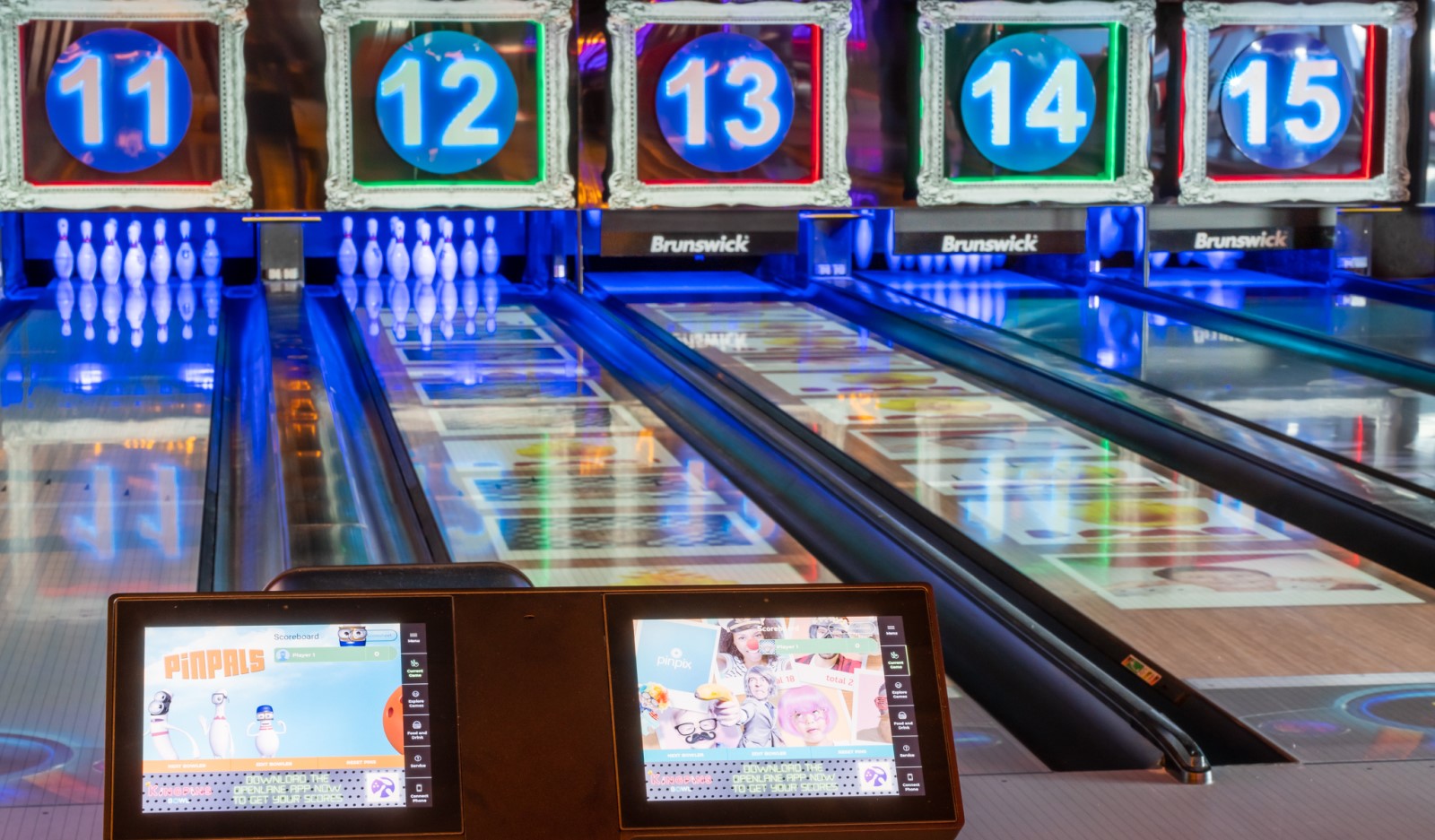 Kingpins has transformed an old nightclub site into an impressive activity led entertainment centre. The site beautifully embodies the power of competitive socialising by partnering quality, tech-led activities, a creative bar menu with a modern food offering.
We thoroughly enjoyed working with the Kingpins team on the installation of their bowling lanes and Duckpin Social. It's always lots of fun working alongside people who are as passionate about a quality bowling experience as we are. When we asked Nick Singer, Operations Manager at Kingpins about the support he received from Bowling Vision he said,
The bustling ground floor boasts 8 lanes of Brunswick Spark bowling. These are the best interactive bowling lanes on the market, offering an immersive bowling experience, premium lane projections which interact with the roll of the ball and fun games which include additional targets dancing on the lanes. Simply sensational.

In addition there are augmented reality darts. These super high-tech darts lanes offer the ultimate team gaming experience. The large screens, displaying quality gaming graphics enable you to play fast-paced, darts based games, with a range of difficulty levels. These games will get your adrenaline racing and, seemingly, people get better after a cocktail or two. 
This neon party paradise offers two lanes of Duckpin Social bowling (shorter lane and balls with no holes), pool tables, shuffleboard, AR air hockey and pin ball machines. The venue joins with the neighbouring Electric Avenue amusements hall, so guests can take to the machines, slots, shooter games and ride ones.
The upstairs space, Level 2, added a further eight Spark, interactive bowling lanes to Kingpins. With an over-18s vibe, Level 2 includes a popular karaoke booth and access to The Madri Terrace with incredible views of the seafront, which is open throughout the year.
Sport is close to the heart of the Kingpins team, consequently there are large screens throughout the venue showing the very latest live sport from Sky Sports and BT Sports. Their Facebook provides details of the main sporting events they will be live streaming.
At Kingpins they have taken care to ensure you are well looked after; with a full bar on every level and on-site restaurant. Their food menu offers American diner classics including pizza, burgers and hotdogs, with a good range of sides. At the bar there is a range of options of alcoholic and soft  drinks, including handmade cocktails!
During the day Kingpins is a fun, family destination. With all you need to keep children of all ages entertained and well fed. By night Kingpins offers you the opportunity to catch the game with your mates, enjoy a fun date night or add some excitement to a night out with your besties. As Kingpins like to say, the perfect place to: Eat, Sleep, Bowl, Repeat.
Build your own successful leisure entertainment venue
Get in touch to discuss your inspiring bowling alley vision with us. We can help you on the journey from concept to successful operational venue.